SPREAD THE WORD
Encourage friends and family to donate with you. The number one reason people don't donate is because they weren't asked!
SCHEDULE YOUR APPOINTMENT TODAY
KPFT 90.1 FM
Tuesday, 05/23/2023 (01:30 pm – 05:00 pm)
4506 Caroline St.
KPFT 90.1 FM
Houston, TX 77004
Appointments preferred
Saving lives feels good, and every blood donation helps make a difference in someone's life. The hour you take out of your day to donate blood helps a patient in the hospital spend more time with their family.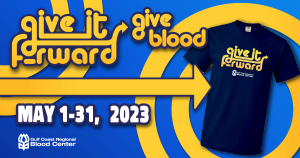 As a sign of appreciation for supporting our community, Gulf Coast Regional Blood Center thanks those who give blood from May 1–31, 2023, with our "Give It Forward" T-shirt. 

Want to save time at your donation?