A Bit About KPFT
KPFT was born in Houston about 50 years ago. In the late 1960s, Houston was still behind the times, meaning certain stories were ignored by the media and the ruling classes.
Our city's first woman who was black had been elected to the school board. And even though there was pressure for desegregation and equal rights — the local papers, television, and radio declined to cover her victory.
Out of a first amendment urge, "two young, disillusioned journalists" started KPFT — Larry Lee from the Associated Press and Don Gardner from the Houston Post.
So this lil' radio station got itself a lil' license from the big ol' government — and joined a growing family of educational, community radio stations from across America. At the time, KPFT was the youngest of four siblings in Berkeley, Los Angeles, New York City, and Houston. On March 1, 1970 this lil' radio station started broadcasting for the very first time.
Can you guess the first song those pioneers played for the good people of Houston and Harris County back then? "Here Comes the Sun" by The Beatles. The band had only released it four months prior. What a time to be alive. (Sadly, it appears all recordings of classic hit have been destroyed, and there appears to be no way to listen to this song).
"…the first, second, and only radio station in this country to be literally blown off the air." — Houston Chronicle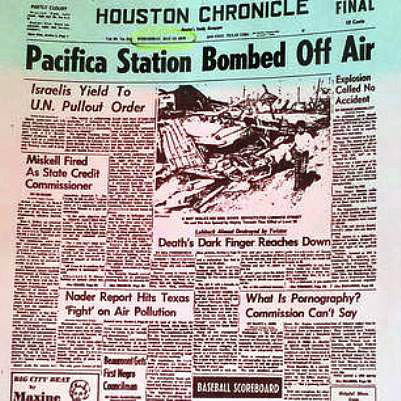 Mauldin, John. The Rice Thresher (Houston, Tex.), Vol. 58, No. 6, Ed. 1 Thursday, October 8, 1970, newspaper, October 8, 1970; Houston, Texas. (https://texashistory.unt.edu/ark:/67531/metapth245088/m1/3/: accessed October 22, 2021), University of North Texas Libraries, The Portal to Texas History, https://texashistory.unt.edu; crediting Rice University Woodson Research Center.